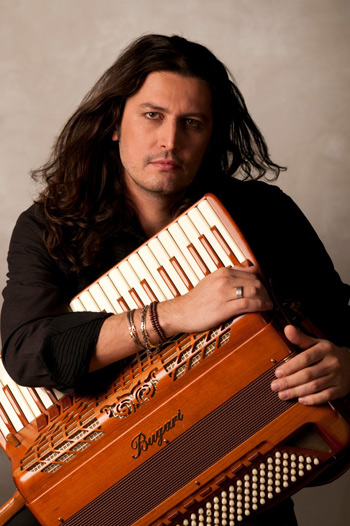 Marco Lo Russo aka Rouge was born the 27th April 1977 in Latina (Italy).

Over the past 25 years, Marco Lo Russo has emerged as an internationally acclaimed and extraordinary musician: accordionist, composer, arranger, producer (Rouge Sound Production), conductor, musicologist and professor at the Conservatory of Music of accordion, techniques of musical composition and arrangement, computer music, theory rhythmic and musical perception and intonation sung.

Marco Lo Russo is described for sensitivity, ability, talent and personality by critics and by many world-renowned artists artist represents the most advanced and updated by the guidelines of the musical culture of our time. He is listed under best musicians in the Italian Yearbook of Cinema for his work composing for television (RAI, RTI, SKY), theater, soloists and for its intense concert activity.

Marco Lo Russo is internationally regarded as one of the leading contemporary Italian musicians. Eclectic, diverse and extremely fond of diverse multi-ethnic and contemporary sound and rhythm, he has received top reviews by critics and continues to collaborate and innovate with top international talent including Ennio Morricone, Nicola Piovani, Pupi Avati and Leo Brouwer amongst others. His musical interest extends from the classical and contemporary repertory to the Argentinean tango, running through jazz and elettronic contaminations.

Marco Lo Russo worked on numerous international collaborations with Nicola Piovani (Awards winner) including the soundtrack of the movie Life Is Beautiful/La Vita e Bella starring Roberto Benigni as well as collaborating with Leo Brouwer in Cuba, among many other prominent artists collaborating in the delivery of numerous international festivals and TV/Radio programs worldwide including Festival di Sanremo, Jazz Foundation of America in conjunction with Montreux Jazz Festival, and World Vision Program on RAI television with Pope Benedicto XVI and Pope Francis.

Marco Lo Russo has performed as a soloist in the USA, Europe, Canada, Cuba, and throughout Latin America including performances at some of the most prestigious theaters, festivals, international clubs (including international jazz club such as Blue Note, Something Jazz club in NYC, USA) and various international cultural events including invited solo accordionist at the Rome National Opera Theatre (Opera Marie Galante in 2007).

Marco Lo Russo expresses the passion for art from an early age, eleven years old he began studying the accordion and the piano.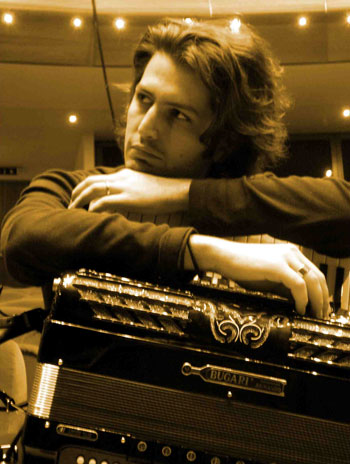 In 1996 starts the frequency of the Conservatory of Music G. Rossini in Pesaro (Italy) and the University of Bologna waging an intense course of academic studies.

In 1997, in parallel with studies, he began his professional activities with international tours (Festival of Johnny Lombardi, CHIN INTERNATIONAL RADIO TV in Toronto and other Canadian cities in the province of Ontario) and collaborations in pop and jazz music for festival, events and for the edition of the Italian Song Festival di Sanremo in 1999.

In 1998, guesses the natural ability to improvise and decided to also study jazz improvisation technique and theory at the School of Jazz in Cesena (Italy) with Stefano Nanni.

In 1999 he attended international courses on Città di Stresa (Italy), refers to Literature of keyboard and Literature of Contemporary accordion with Sergio Scappini, Giovanna Franzoni and Emanuele Spantaconi and international courses in conducting at the Teatro Sferisterio of Macerata (Italy) with Filippo Maria Caramazza.

In 2001 he graduated in classical accordion at the Conservatory of Music G. Rossini in Pesaro (Italy) and attended the two-year apprenticeship in accordion with Sergio Scappini.

In the summer of 2001 and summer 2002 he participated in international seminars jazz improvisation on campus Arceviajazz in the province of Ancona (Italy).

Between 2002 and 2004 he attended a course of piano jazz and improvised music with Paolo Birro, Tommaso Lama, Paolo Ghetti and Stefano Zenni at the Conservatory of Music G. B. Martini in Bologna (Italy).

In 2004 he earned a four year university degree in Literature and Philosophy, department of Music (DAMS) at Università of Bologna. His graduation thesis was in: History of contemporary and modern music: The Accordion, instrument of 1900s.

In 2006 he graduated in band instrumentation and arrangement at Conservatory of Music G.B. Martini in Bologna with Roger Mazzoncini, where he also studied composition with Gian Paolo Luppi and Adriano Guarnieri. From 2009 to 2011 he attended enhancement Master Class in composition with Alessandro Solbiati at International Campus of Contemporary Music of Sermoneta (Italy). Then he attended a course in conduction an orchestra at Conservatory of Music S.Cecilia, Rome with Francesco Vizioli.

In 2009 he certified as Apple Certified Pro, Logic at AATC LogicPro.it with Alessandro Magri.

In 2010 he graduated in Composition (Ten years course) at Conservatory of Music S.Cecilia in Rome with highest honours with Francesco Carotenuto.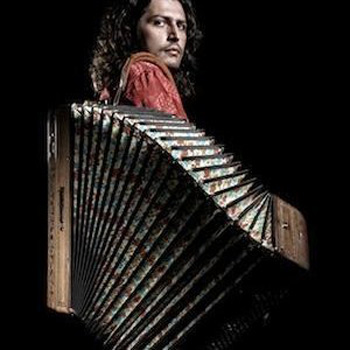 He worked as soloist performer, composer and arranger also for many radios and TV programmes as: Palcoscenico on RAI 2, Italia RAI with Gigliola Cinquetti on RAI International, Stella with Maurizio Costanzo on SKY, 42.12 Mediterraneo d'Europa on TV2000 (more than 200 television episodes as a musician and composer ), La Bibbia giorno e notte on RAI EDU/RAI 1 in a worldwide from Rome, Al Centro della vita on RAI 1 at the XXV National Eucharistic Congress in the presence of Pope Benedetto XVI, A Sua Immagine on RAI 1, TV worldwide, to show Sacra Sindone at Duomo of Turin, Nel Cuore dei giorni on TV2000 as guest in a live recording during the return of Pope Francesco from Brazil on the occasion of World Youth Day 2013. And many other radios as: Radio InBlu, Radio RAI International, Radio RAI, Radio Vaticana and numerous other international media.

Marco Lo Russo was the musical artistic director for many programs realized by: RAI Storia/RAI International such as I Promessi Sposi of Italy and for seasonal concerts and cultural events.

On order of Leo Brouwer he rewrote and performed many works, to play just with the accordion, composed by Leo Brouwer. The performance was a world premiere at the IV International Chamber Music Festival of La Havana (Cuba) in 2012.

Marco Lo Russo conducted in many occasions lots of orchestras and ensemble as Orchestra of Filarmonica di Parma.

Marco Lo Russo has composed music for soloists, theatrical performances, live video performances, short films, and also played original compositions for radios and for the television channels. His works are published by Animando, Barvin, ConcertOne, Dimi, DNA, GB Music, Flipper Music, Heristal Poliedizioni, Itacalibrei, Molto Recordings, Nelson Records, Nuova Peker, Polskie Nagrania, RAI Trade, Rhino, RTI Mediaset, Scogliera, Select, Smoothnotes, Universal Music, Universo, Velut Luna, X Energy and Warner Chappell Music.

During his career, Marco Lo Russo has received many rewards and honor for his performances.
Marco Lo Russo plays Armando Bugari's instruments (Castelfidardo, Ancona, Italy).