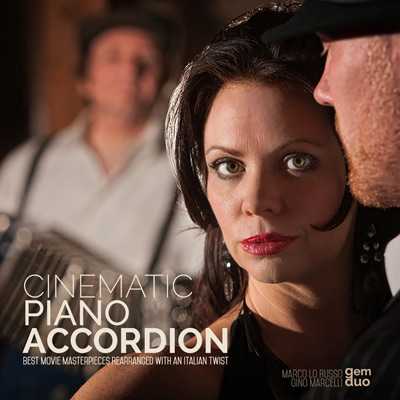 On line da giovedì 9 aprile

il nuovo disco

Cinematic Piano Accordion

di

Marco Lo Russo

e

Gino Marcelli

. Il cd per l'etichetta GBMUSIC del produttore Giacomo Bondi, con il quale

Marco Lo Russo

ha realizzato negli anni diverse produzioni, è un lavoro a quattro mani con

Gino Marcelli

il

GeM DUO.

I due temerari ed eclettici musicisti, amanti delle sonorità mediterranee e contemporanee con interessi musicali che spaziano dal repertorio classico fino al tango argentino, passando per contaminazioni jazzistiche ed elettroniche, hanno dato una loro originale interpretazione, in chiave jazzistica delle più famose colonne sonore del cinema internazionale, alla musica d'autore e a composizioni originali.

La fisarmonica di Marco Lo Russo,

in veste di strumento colto e tanghero, dialoga con il pianoforte di

Gino Marcelli

attraverso una performance caratterizzata dalla componente ludica che permette di giocare, elaborare, svisare ed improvvisare con celebri melodie italiane, di repertorio internazionale, standard jazz e composizioni originali degli stessi

Marcelli

e

Lo Russo.


Un viaggio musicale personale dei due artisti, che non perdendo di vista il background odierno, rivivono le emozioni che li circondano. Per immergersi nel mondo del cinema, attraverso il fantastico linguaggio musicale,
Cinematic Piano Accordion del GeM DUO
il nuovo disco di
Marco Lo Russo
e
Gino Marcelli
, in distribuzione da
giovedì 9 Aprile
in tutti gli store on line.




New album Cinematic Piano Accordion by Marco Lo Russo and Gino Marcelli (the GeM Duo) was released April 9th, 2015.

Best Movie Masterpieces Rearranged with an Italian Twist by Marco Lo Russo and Gino Marcelli.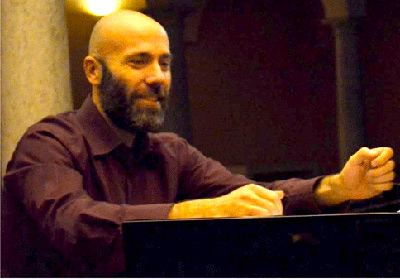 Marco Lo Russo and Gino Marcelli, eclectic musicians who love Mediterranean and contemporary sounds, gave birth to an original interpretation of the most famous international soundtracks, revisited in jazz ways, but also played unpublished music.

Marco Lo Russo's accordion and Gino Marcelli's piano talk each other through a playful performance. The two musicians play with their instruments, extemporize being founded on Italian melodies, international ones, jazz standard musics and original compositions.

It will be a musical journey by those two artists. They don't lose sight of the today's musical background but they are able to relive surrounding feelings.

Cinematic Piano Accordion by Marco Lo Russo and Gino Marcelli is literally a dive into cinema's world.