Ivano Battiston, professor of Accordion at the "Cherubini" Conservatory of Music in Florence, Italy, studied with Salvatore di Gesualdo and received his degree in Accordion at the conservatory of Castelfranco Veneto with highest honors.

In 1978 he won the first prize at the XXVIII Trophée Mondial de l'Accordeon (Pula) after which he also obtained conservatory degrees in choral music and bassoon as well as continuing his studies in music composition with Bruno Coltro.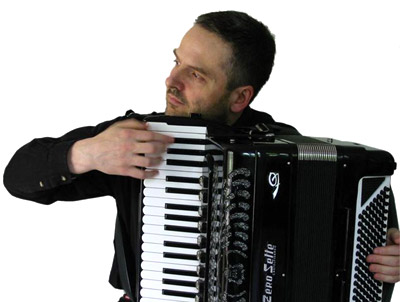 Mr. Battiston has performed in recitals in Italy and abroad (France, Spain, Switzerland, Germany, Croazia, Bosnia and Herzegovina, Serbia, Albania, Finland, Holland, United Kingdom, Malta, U.S.A., Russia, Chile, Uruguay, Argentina and Brazil).

As an accordion soloist he has performed with leading orchestras: Moscow Soloist conducted by Yuri Bashmet, Quad City Symphony Orchestra in U.S., Simfonični orkester RTV Slovenija Ljubljana, RAI Torino, Orchestra d'Archi Italiana, Sinfonica di San Remo, "Milano Classica" and "Pomeriggi Musicali" in Milan and also with the "Arturo Toscanini" Emilia Romagna Symphony Orchestra in the last concert of the "2 Agosto" International Composition Competition's and with the Krasnoyarsk Chamber Orchestra (Russia) at the 2004 / 2005 / 2007 edition of the Siberia - Italia Festival and in 2011.

Since 1995 Mr. Battiston has appeared in duo with cellist Mario Brunello: their recording of "Sieben Worte" for cello, accordion and Strings for Fonit Cetra was acclaimed as one of the five most significant recordings of 20th century music to have been released in 1997.

He has recorded for Deutsche Grammophon, Warner Fonit, Sargasso Records, Promo Music, Profil - Hanssler, Velut Luna, Ema Records, Belumat Editrice, Raitre, Radiotre, etc.

Contact:
ivanobattiston@gmail.com


Notes from the arranger/composer for each accordion piece of the Battiston catalog of many different styles and types of accordion music.
battiston101
Libertango composed by Astor Piazzollo, arranged by Ivano Battiston for solo accordion.
View video at: battiston101
battiston102
Postcards composed by Ivano Battiston for sax (both soprano and baritone) and accordion.
View video at: battiston102
battiston103
Ples composed by Ivano Battiston for solo accordion
View video at: battiston103
battiston104
Paganiniana is a series of variations on Nicolò Paganini's Capriccio for violin number 24 and is written for two accordions.
View video at: battiston104
battiston105
The "Ricercare a tre" BWV 1079 J.S. Bach is a three-voice fugue and the first piece of the Musical Offering (1747), one of the most articulate and complex works ever composed.
battiston106
3 Balkan Dances are three short pieces written for recorder and accordion and inspired by the folklore of Serbia and Macedonia. The song titles are also the names of some Balkan villages. Hum, Surduk, Rakita. In the three pieces you can find particular rhythmic games and virtuosities.
View video at: battiston106

More music compositions and arrangements by Ivano Battiston are being released shortly.