Winner of the 2002 Coupe Mondiale World Accordion Championships
and
2002 Coupe Mondiale International Piano Accordion Championship
catalog: apoeluev01eT
Title: Live in Rostov-on-Don 2013 - Album
| | | | | |
| --- | --- | --- | --- | --- |
| | Name (Click for Sound Sample) | Composer | Time | Buy/Price |
| 1. | | J. S. Bach | 04:15 | € 0,80 |
| 2. | Sonata E Major | D. Scarlatti | 04:43 | € 0,80 |
| 3. | Sonata F Major | D. Scarlatti | 03:37 | € 0,80 |
| 4. | Sonata A Major | D. Scarlatti | 04:38 | € 0,80 |
| 5. | Les Roseaux | F. Couperin | 03:54 | € 0,80 |
| 6. | Le Coucou | L. C. Daquin | 01:34 | € 0,80 |
| 7. | Le rappel des oiseaux | J. Ph. Rameau | 02:14 | € 0,80 |
| 8. | Arlequine | F. Couperin | 01:02 | € 0,80 |
| 9. | Fantasy and Fuge A minor | J. S. Bach | 06:02 | € 1,15 |
| 10. | Cinderella | A. Arkhipovsky | 04:58 | € 0,80 |
apoeluev01: Alexander Poeluev accordion, Live in Rostov-on-Don 2013 CD by Alexander Poeluev
Order CD by credit card in Euro or US$ using our secure server bank system
Euro Order US$ Order
| | | | | |
| --- | --- | --- | --- | --- |
| | Name | Composer / Arranger | Time | mp3 file size |
| 1. | Chromatic Fantasia and Fugue | J. S. Bach | 04:15 | 1.14mb |
| 2. | Sonata E Major | D. Scarlatti | 04:43 | 1.14mb |
| 3. | Sonata F Major | D. Scarlatti | 03:37 | 1.14mb |
| 4. | Sonata A Major | D. Scarlatti | 04:38 | 1.14mb |
| 5. | Les Roseaux | F. Couperin | 03:54 | 1.14mb |
| 6. | Le Coucou | L. C. Daquin | 01:34 | 1.14mb |
| 7. | Le rappel des oiseaux | J. Ph. Rameau | 02:14 | 1.14mb |
| 8. | Arlequine | F. Couperin | 01:02 | 1.14mb |
| 9. | Fantasy and Fuge A minor | J. S. Bach | 06:02 | 1.14mb |
| 10. | Cinderella | A. Arkhipovsky | 04:58 | 1.14mb |

Alexander Poeluev was born in Rostov-on-Don, Russia on January 12, 1981. He began his music studies at the age of six at the music studio of A. S. Shachnev.

From 1991 to 1996, Alexander was enrolled in the Tchaikovsky Music School in the Class of Selected Members of the All-Russia Musical Society of I. N. Pilipenko.

In 1996 he entered the Rostov State College of Arts, qualifying for the special class of S. S. Galkin for Outstanding Russian Artists.
After completing one year of studies, he continued his education at the A. Shnitke Music College in Moscow in the distinguished class of Russia's National Artists, and went on to win several international competitions under the tutelage of noted educator, composer and accordion virtuoso, professor Viatcheslav A. Semionov.

1997-2000 - Schnitke State Music College in Moscow
2000-2003 - Schnitke State Music Institute in Moscow
2003-2005 - Gnessins Music Academy of Russia
2005-2007 - Postgraduate study at Gnessins Music Academy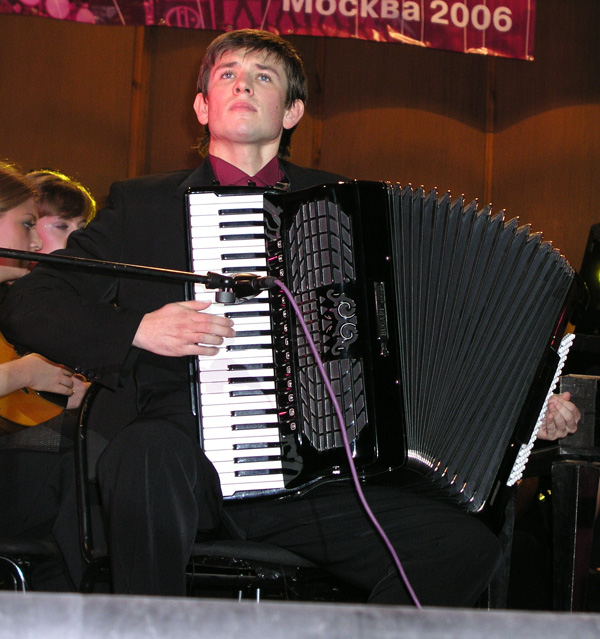 In 1997, Alexander became the double winner of the All-Russia competition for accordion players in Belgorod (Russia) and in 2002 at the "Coupe Mondiale" International Competition, in Copenhagen (Denmark), he won in two top categories:
SENIOR COUPE MONDIALE and
COUPE MONDIALE INTERNATIONAL PIANO ACCORDION category.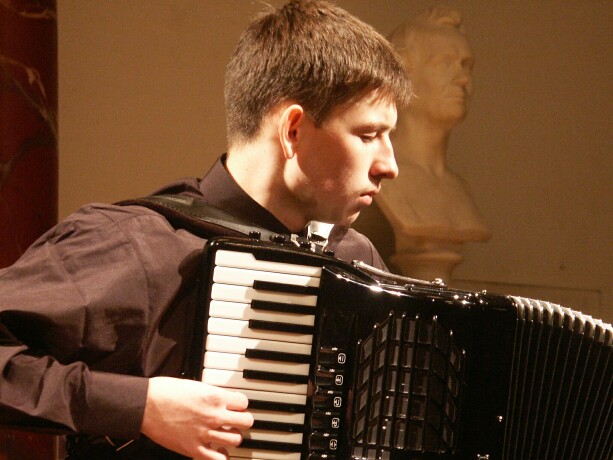 In 2005 he became the laureate of the Stolaruk International Entertainment Competition sponsored by the American Accordionists' Association which was held in Detroit, Michigan. In 2006 Alexander was awarded first place in the first international competition held in Shanghai (China).

Alexander has performed in New Zealand, Australia, USA, Slovakia, Hungary, Serbia, Croatia, Bosnia and Herzegovina, France, Finland, Denmark, Sweden, Lithuania, Latvia, Ukraine and in many cities of Russia. He is currently an active concert artist, frequently serves as an adjudicator at international competitions and organizes concerts in Rostov-on-Don for noted performers.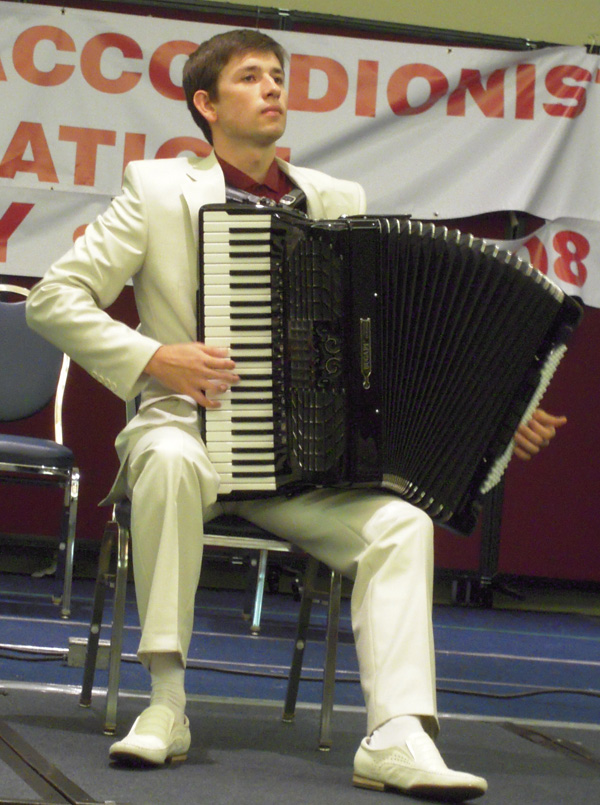 Poeluev's concert program includes music by J. S. Bach, D. Scarlatti, N. Paganini - F. Liszt, E. Grieg, F. Mendelssohn, P. Tchaikovsky, S. Prokofiev, S. Rachmaninov, and also A. Piazzolla, V. Semionov, A. Kusiakov, V. Tchernikov, V. Vlasov and many others.

Alexander Poeluev's performances are distinguished by his great mastery of the instrument, brilliant technique and virtuosity and sensitive interpretations.