Lorenzo Bosica was born in Atri (TE, Italy) on 22nd March 1997 and he lives in Villa Bozza Montefino in the province of Teramo. His musical history began in November 2003 when at age 6, he began studying diatonic accordion with the teacher Renato Ruggieri. With this instrument he has won numerous competitions including: Etnie Musicali (Teramo), and the International Festival of Atri (TE ) up to the Italian championship held in Teggiano (SA) in 2010.

In 2008 he began studying the accordion with the teacher Renzo Ruggieri. He has become a true talent within a few years, winning numerous national and international competitions. A very big success was achieved in September 2011 when, at age 14, he became a junior world champion, winning the 1st place in the category Junior Varieté at the Trophee Mondial CMA competitions, held in Pineto, Italy.

In 2012, Lorenzo Bosica won 1st place at the International Award Leo Ceroni with an orchestra conducted by his teacher Renzo Ruggieri and also in 2012, won the National Trophy for Roland V-Accordion. In 2013 he was a guest of the TV show "I Fatti Vostri" on the Italian network (Rai 2 ) with the Orchestra of Maestro Demo Morselli.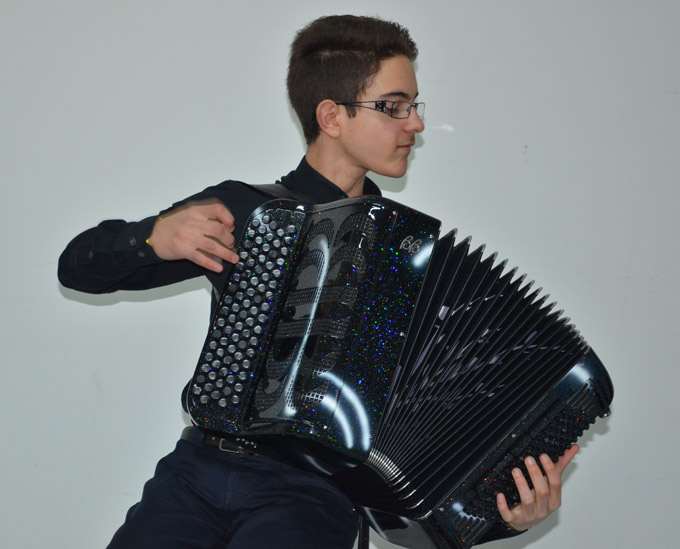 In the year 2013 a true explosion: August 24th Lorenzo Bosica won 1st place at the 66th Coupe Mondiale Junior Virtuoso Entertainment category organized by the CIA in Victoria (Canada);
September 24th he won 1st place at the F.I.F International Award of Castelfidardo, popular music category..

In 2014, he also won the ITALY AWARD in Pineto (Italy) and in May 2014, he recorded his first album "Virtuosity ", containing the music program that accompanied him for his major musical successes.

Lorenzo has also travelled performing concerts in the cities of Potenza Picena, Pozzilli, Pineto, Joensuu and Shanghai.

Currently Lorenzo Bosica continues studying with his teacher Renzo Ruggieri..




Nato ad Atri (TE, Italy) il 22.03.1997 vive a Villa Bozza di Montefino in provincia di Teramo. La sua storia musicale ha inizio nel novembre 2003 quando all'eta di 6 anni inizia lo studio della fisarmonica diatonica con l'insegnante Renato Ruggieri. Con questo strumento ha vinto numerosi concorsi tra i quali: Etnie Musicali (Teramo) e Festival Internazionale di Atri (TE), fino al campionato italiano svoltosi a Teggiano (SA) nel 2010.


Nel 2008 ha iniziato lo studio della fisarmonica con il maestro Renzo Ruggieri. Vero talento, si è affermato in pochi anni vincendo numerosissimi concorsi nazionali ed internazionali. Il grande traguardo arriva nel settembre del 2011 quando, a soli 14 anni, diventa campione mondiale di fisarmonica conquistando il 1st posto nella categoria junior varieté al World Accordion Trophy CMA svoltosi a Pineto (Italia). Nel 2012 conquista il 1st posto nel Premio Internazionale Leo Ceroni con un'orchestra diretta dal suo maestro Renzo e il Trofeo Nazionale per fisarmonica elettronica della Roland.

Nel 2013 e stato ospite della trasmissione televisiva "I Fatti Vostri" sulla rete nazionale italiana (Rai 2) con l'orchestra del M Demo Morselli. Nell'anno 2013 una vera esplosione: il 24 agosto conquista il 1st posto nella categoria Junior variete della 66th Coupe Mondiale della Fisarmonica organizzato dalla C.I.A. a Victoria (Canada); il 24 settembre il 1st posto del Premio F.I.F (Premio Internazionale di Castelfidardo). Nel 2014 si aggiudica anche l' "ITALIA AWARD".

Nel maggio 2014 incide il suo primo disco "Virtuosity", contenente il repertorio che lo ha accompagnato in questa sua prima esperienza musicale.

Lorenzo ha tenuto anche alcuni concerti in citta Itialiane (Potenza Picena, Pozzilli, Pineto) e straniere (Joensuu, Shanghai).

Attualmente continua lo studio della fisarmonica con il suo maestro.


Contact:
bosica.lorenzo@libero.it