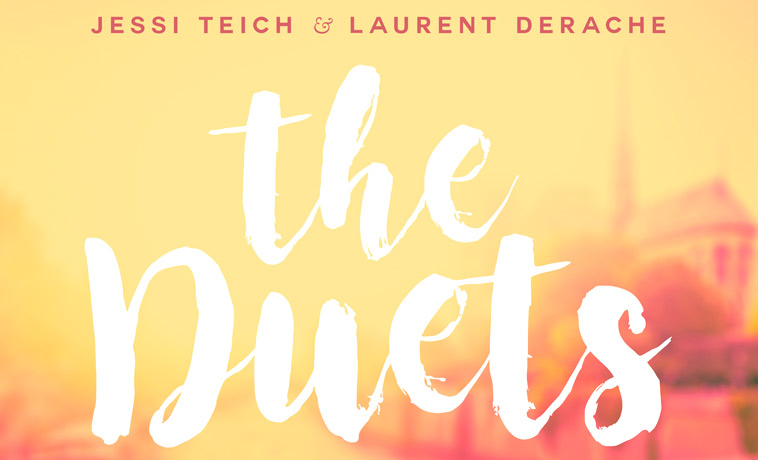 Catalog: TheDuets00eT
Title: Jessi Teich & Laurent Derache - the Duets
Catalog: TheDuets00eT



US$5.96 Buy eTracks mp3
eps Album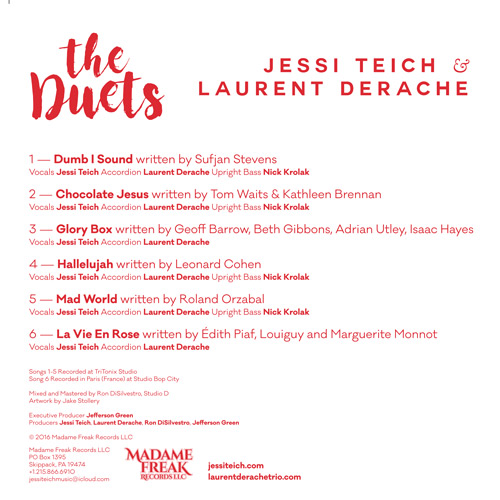 The idea for "The Duets" was conceived during a trip to Paris while recording a separate album with accordionist Laurent Derache. At the very end of the session Jessi asked Laurent if they could record the song "La Vie En Rose" as a gift for her grandmother. Laurent and Jessi laid the song down in one take and recognized an instant musical chemistry.

Later the following year, he traveled to the states for the Madame Freak & The Funky Fever tour. While in the USA, they carved out time to record some of her favorite cover songs together. Each of the songs Jessi chose represents a piece of her musical life that helped her develop as a singer and a writer. What came of it felt like magic and "The Duets" were born. Jessi later asked her friend and longtime band mate Nick Krolak to add his upright on some of the tunes. Although one hears three instruments on most of the tracks, the name "The Duets" stuck because of the incredible, musical moment that Laurent and Jessi created in the studio that day.

Jessi Teich (pronounced "teach") graduated Magna Cum Laude from the Berklee College of Music in Boston, MA and is currently living in Los Angeles, CA. She has won numerous international songwriting awards and accolades.

Over the years she has developed a sound that masterfully mixes indie-pop, jazz sophistication, blues grit, and soul's tragic romance. Jessi has an edgy yet elegant aesthetic that fluidly seeps into her music. It's this unique combination that's drawn her comparisons to Adele, Sarah Bareilles, Sia, Lana Del Rey and Amy Winehouse among others. According to one reviewer, "Jessi has a rare sense of soul-baring vocal honesty with no pretenses or unnecessary acrobatics".

Laurent Derache is one of Europe's finest accordion masters and is based in Paris, France. He currently is involved with several projects including: The Laurent Derache Trio, YGRANKA, Jessi Teich and many other influential European musicians. Laurent studied at Conservatoire de Reims and Centre des Musiques Didier Lockwood.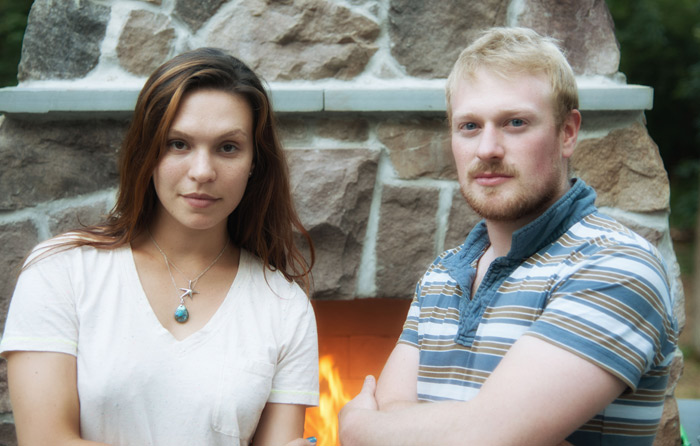 Accolades:
• Indie Pop single "Wildfire" released December 2015, produced by tyDi and co-written by Jessi, tyDi and Krysta Youngs. "Wildfire" is currently #4 on the prestigious European Independent Music Chart.
• Indie Pop ballad "The Curtain Call" was released in March 2016. The song was featured on the Singer/Songwriter section of iTunes. "The Curtain Call" was co-written by Jessi and Stuart Crichton. Stuart also produced the song.
• Original song "Diggin' A Ditch" hit #1 on the European Independent Music Chart in July 2015.
• Original song "The Haunting" won 1st Runner Up Overall for the West Coast Songwriters 2013 International Song Competition.
• Original song "Hold It Down" won Song of the Year Award in the Blues category for the West Coast Songwriters 2014 International Song Competition.
• Recipient of over a dozen international songwriting awards.
• Two of Jessi's original songs were used in TV shows on ABC and TLC in 2015/2016.

published by Madame Freak Records LLC