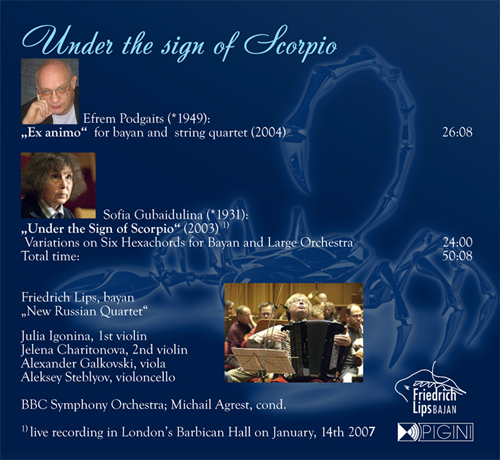 "Ex animo" - from the heart (lat.). Today's composers have found out that the bayan's timbre can be perfectly combined with string bow instruments: both violin and violoncello.

The composition of Podgaits is one of the few examples of a bayan quintet – bayan with string quartet (I remember Torbjörn Lundquist's composition "Bewegungen" (movements), written in 1966). The width of melodic breath, delightful beauty of the theme in Podgaits is organically intertwined with dancing rhythms.

The quintet was commissioned by Fine Arts Quartet (Milwaukee, USA). The first performance was given there by Friedrich Lips and the quartet.

"Under the Sign of Scorpio" - one of the biggest frescos of the outstanding composer.

In each composition for bayan Sofia Gubaidulina opens up new specific possibilities of the instrument and finds new interesting solutions to realize her plans. In the given composition she used the features connected with alternation of the same keys on both keyboards – free bass and standard bass. According to the composer: "… But another possibility of the standard-bass manual was the most important one for me: by simultaneously depressing two buttons corresponding to a major and a minor chord respectively, and then shifting the hand gradually upwards or downwards over the instrument's entire range - without changing the finger position - six different hexachords will result.

These six hexachords lend the entire composition the structural foundation for its material and form: variations on six hexachords - thus the work's subtitle. The title of the bayan concerto "Under the Sign of Scorpio" arose from the fact that this work is dedicated to one of the most serious musicians of our time, the bayanist Friedrich Lips, who was born under the zodiacal sign of Scorpio. (Incidentally, this is also my own zodiacal sign.)"

It is known that the scorpio often tries to bite himself in his tail and this pursuit of a tail forms a circle – a symbol of eternity. This picture is underlined by vorticose passages of the bayan in the end of this work.