E.Denisov's "The steamer is sailing past the harbour" is a phantasy on topics of popular Soviet songs oft he 30s of the 20th century, written in tonal form, presenting subtle humour and refined compositional techniques.

A.Piazzolla's concerto "Aconcagua" is one of the few oeuvres of the great Argentinean in a long form. Such as the Aconcagua is one of the world's highest summits, Piazzolla's concerto has to be counted among the greatest achievements of this composer.

T.Sergeyeva's bright and beautiful music, that is even spreading optimism, reminds you of a splendid bouquet whose flowers lure the listener with impressive colours. It was my wish to adapt the concert-burlesque by A. Shurbin for a Unisono of accordionists.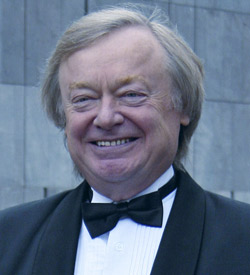 One of P.Frosini's - the famous American accordionist of Italian origin - best known oeuvres reflects the style of North American musicians of the first half of it he 20th century extremely well.

There are numerous arrangements and transcriptions of the world's most famous tango "La Cumparsita" by G.M.Rodriguez. This CD presents that masterly oeuvre in the arrangement by A.Piazzolla, which is not very well known. E.Podgaits' Cocktail "Rio Rita" is a quintet for violin, cello, accordeon, piano and percussion. It was written in 2008 and is dedicated to

F.Lips for his jubilee as interpreter of the composer. Podgaits embarks on a musical journey of discovery in order to explore the connections of one of the most popular pieces of music of the 20th century - Rio Rita - to the music of classical composers and folk music.
---
E.Denissow's "Der Dampfer fährt am Hafen vorbei" ist eine Fantasie über Themen populärer sowjetischer Lieder der 30er Jahre des 20. Jahrhunderts, absolut tonal geschrieben, mit feinem Humor und raffinierter Kompositionstechnik.

A.Piazzolla's Konzert "Aconcagua" ist eines der wenigen Werke des großen Argentiniers in großer Form. So wie der Aconcagua zu den höchsten Gipfel der Erde gehört, kann man auch Piazzolla's Konzert zu den größten Errungenschaften des Komponisten zählen.

Die helle, schöne und Optimismus verbreitende Musik T.Sergejewa's erinnert an einen prächtigen Strauß, dessen Blumen mit beeindruckenden Farben locken. Und die Titel sprechen für sich: "Jasmin", "Dunkelrote Rose", "Nachtblumen". Das Stück "Amarillis" gehört zu dieser von wundervollen Aromen duftenden Serie. Die Konzert-Burleske von A.Schurbin ist auf meine Bitte für ein Unisono von Akkordeonisten geschrieben.

Eines der bekanntesten Stücke des berühmten amerikanischen Akkordeonisten italienischer Herkunft P.Frosini spiegelt die stilistische Ausrichtung im Repertoire nordamerikanischer Musiker der ersten Hälfte des XX. Jahrhunderts sehr gut wider. Vom berühmtesten Tango der Welt - "La Cumparsita" von G.M. Rodríguez - gibt es unzählige Arrangements und Bearbeitungen.

Auf dieser CD ist dieses Meisterwerk in der wenig bekannten Bearbeitung A.Piazzolla's zu hören. E.Podgaits' Cocktail "Rio-Rita" ist ein Quintett für Geige, Cello, Akkordeon, Klavier und Percussion, wurde 2008 geschrieben und ist Friedrich Lips zu seinem Jubiläum als Interpret vom Komponisten gewidmet. Podgaits begibt sich dabei auf eine musikalische Entdeckungsreise, um die Beziehungen eines der populärsten Hits des 20. Jahrhunderts (Rio-Rita) mit der Musik klassischer Komponisten und der Volksmusik zu erforschen.