| | |
| --- | --- |
| | Catalog: CD012eT |
| Individual eTracks | |
Name (Click for Sound Sample)
Time
Buy/Price
1.
CINEMA (1997)
8:06
€ 1,15
2.
Feiertag für zwei (1993) für Bajan und Percussion
11:15
€ 1,45
3.
Jasmin (1998)
Tango für Bajan und Klavier, gewidmet F. und S. Lips
9:04
€ 1,15
4.
Tango Apasionado
2:01
€ 0,80
5.
Tango
4:00
€ 0,80
6.
Sonate Nr 2 "Nostalgie oder Sonata quasi una..."
(gewidmet F. Lips, 1982)
10:04
€ 1,45
7.
Sonate Nr 3 "Spaziergang durch den njeskutschnij sad"
(gewidmet F. Lips, 1984)
11:33
€ 1,45
Name
Composer / Arranger
Time
1.
CINEMA (1997)
S. Berinski
(1946-1998)
8:06
2.
Feiertag für zwei (1993) für Bajan und Percussion
D. Scarlatti (1685-1757)
11:15
3.
Jasmin (1998)
Tango für Bajan und Klavier, gewidmet F. und S. Lips
T. Sergejewa (*1951)
9:04
4.
Tango Apasionado
A. Piazzolla
(1921-1992)
2:01
5.
Tango
I. Strawinski
(1882-1971)
4:00
6.
Sonate Nr 2 "Nostalgie oder Sonata quasi una..."
(gewidmet F. Lips, 1982)
A. Schurbin (*1945)
10:04
7.
Sonate Nr 3 "Spaziergang durch den njeskutschnij sad"
(gewidmet F. Lips, 1984)
A. Schurbin
11:33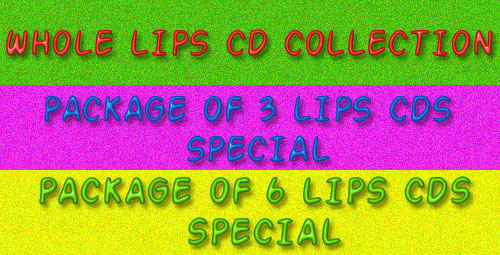 CINEMA - The CD's program exclusively consists of original oeuvres for bayan written in the late 20th century. The name "Cinema" represents a uniting idea and implies a kaleidoscope of pictures, actions, characters and surprising effects.

Sergei Berinsky's "CINEMA" was ordered bv the Accordion Association of Guipuzcoa (Spain) and the test piece at the international competition in Arrasate in 1996. The sequence of pictures and moods reminds of quickly changing scenes in Charlie Chaplin films. This piece of music is dedicated to the Italian composer Nino Rota, who is well-known for his cooperation with Federico Fellini. Berinsky also presents one of Rota's famous melodies.

Vladimir Kobekin a composer from Jekaterinburg (Ural) is famous for his operas. "Holiday for Two" was especially written for Friedrich Lips and Mark Pekarsky, an outstanding percussionist. The ten-minute-oeuvre has been mostly composed in G-major; tiny basic motives develop into the merry atmosphere of a holiday and culminate in unrestricted happiness. To intensify this picture the voice of the interpreter is added (as it is at the climax of Cinema). The oeuvre is written in a minimal style and, I think, it reminds the audience of some scenes in the ballet "Petrushka" by Igor Strawinsky.

Tatiana Sergejeva is not only a brilliant pianist and organist, she also belongs to the most talented and witty composers of her generation. In "Jasmin" she turns to the bayan for the first time. Her outstanding phantasy makes great demands on the cooperation of the musicians: It's a tango that carries listeners away. A merry waltz follows an improvised fragment of jazz, and only at the end the motive of the old romance of "Jasmin" appears. This motive also made her dedicate the oeuvre to father and son - Friedrich and Svjatoslav Lips.

Well-known Russian composer Alexander Shurbin not only unites chamber and popular music in his oeuvre, he also composed the first Russian Rock-opera: "0rpheus and Eurydike". New York has been the place where he lived and worked for the past years. Friedrich Lips gave him the idea to write Sonata Nr. 2, "Nostalgia or Sonata quasi una...". "Nostalgia" represents the desire for beautiful, old melodies and rhythms, "Quasi una" - in the spirit of.... (the listener must be active himself and invent something!). Remember an analogy: Ludwig van Beethoven also wrote a Sonata quasi una fantasia (Clair de Lune) as well as Alfred Schnittke - quasi una sonata. Shurbin's sonata is based on several dance-motives (jazz, waltzes for barrel-organ, A la Mozart etc.) which are connected by elements full of energy. Such music can be understood much better in the vivid atmosphere of a concert hall. That's why this CD presents a recording done at the Acaderny of Music and Theatre of Hannover, 1982.

Sonata Nr. 3, "Walking through Neskutschni Sad" has also been created at Friedrich Lips' initiative. "Neskutschni Sad" is a part of Gorki Park and one of the Moscovites' most beloved recreation areas. The composer develops the idea of the interpreter and makes the strollers first meet a brass band, then a gypsy-ensemble, and finally an old barrel-organ.... This picturesque and colourful sonata is dedicated to Friedrich Lips. It can be heard as a recording done in the concert hall of the Russian Gnessin-Academy in 1985.

Igor Strawinski's "Tango" was originally written for piano, then newly arranged for a trio by Svjatoslav Lips. This interpretation is slow by intention. The mysterious, the expected intrigue, the passionate and even slightly vulgar culmination are the basic differences to traditional interpretations.

Together with his quintet "Piazzolla- Studio" Friedrich Lips recorded a CD with music by Astor Piazzolla in Japan. With this "Tango Apasionado" which holds a special place in the creative work of Piazzolla, Friedrich Lips honours this unique Argentine bandoneonist.